Pentanet Fixed Wireless is our flagship internet service, and we work really hard to keep our network at the forefront of wireless internet technology. ICYMI, we've been upgrading our network to be powered by 5G Fixed Wireless infrastructure, meaning faster speeds, lower latency and better value for you!
To reflect the next generation of our wireless network, we've also restructured our wireless internet plans for home and business to take advantage of the new technology and deliver three of Perth's best-value internet plans to your door. Whether you're a hardcore gamer, binge-loving streaming family, or are powering your home office with superfast internet, there's a new Pentanet Fixed Wireless plan perfect for you.
We have three new plans available for Fixed Wireless, including our high-speed 5G Fixed Wireless Performance plan. 👇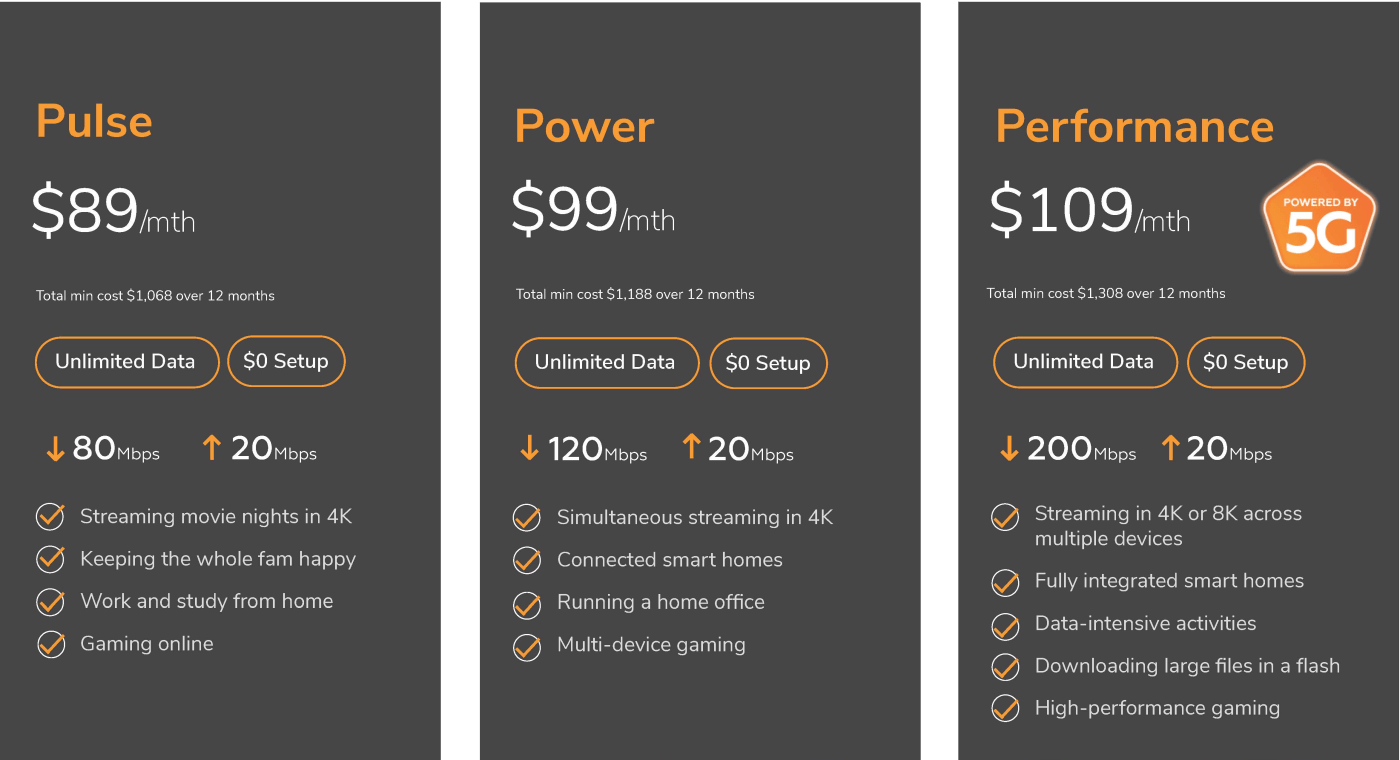 Our new Fixed Wireless plans have been designed to meet a range of budgets and internet browsing habits. However you use the net, there's sure to be a plan perfect for your needs. Pentanet Fixed Wireless is our private network, giving us total control and allowing us to provide higher reliability and speed compared to other networks. It circumvents the nbn™ and traditional below-ground infrastructure by providing a reliable connection directly 'through the air.'
If you need higher upload speeds than what is shown above, don't worry; we've got you covered. For just $10 extra per month, you can boost your upload speed to 30Mbps, more than enough for even the most cloud-hungry home user.
Great! How do I get connected to one of these new plans?
New to Pentanet Fixed Wireless? Firstly, welcome! To get started, you can head over to our Fixed Wireless for home or Fixed Wireless for business pages to check if your address is in range of our telecommunications towers. If it is, simply complete an application form, and our team will get started on the process to upgrade your home to a next-level Pentanet Fixed Wireless connection.
If you're an existing Pentanet subscriber looking to upgrade to the new plans, we've made switching as easy as possible. All you need to do is get in touch with our team on 9466 2670 or by emailing [email protected] and we can help get the switchover underway.