We launched Pentanet because we were tired of poor gaming experiences. Annoying lag and frustratingly long download times made it difficult to enjoy our favourite past time. We knew the solution to this problem was rooted in technology, and so we started investigating.
After our founder Stephen Cornish sold his house to setup the first Fixed Wireless tower, we knew that we'd found a solution to our general internet woes... and Pentanet was born!
Since that historic day a lot has happened. We've made it our mission to deliver the fast, reliable internet Perth truly deserves, backed by excellent customer support and service. We now have Pentanet Fixed Wireless coverage from Alkimos to Rockingham, and continue to innovative by bringing world-class, industry-leading technology to WA, like Australia's fastest internet XFIBRE – our 10Gbps business fibre service in Perth CBD and surrounds.
We wouldn't be here without our tenacious attitude towards technological innovation. Our next-generation of wireless technology here in Perth is a prime example of our drive to bring Perth's internet up to speed. And it's clearly one you want, Perth – because neXus has just been voted as the People's Choice Award winner at the 30th Annual WAITTA Incite Awards!
neXus is a disruptive and resilient network, designed to deliver high-speed broadband through the air at a fraction of the cost of fixed-line rollouts. Using cutting-edge technology, Pentanet will create an innovative wireless mesh for Perth which eliminates constraints of traditional wireless networks and delivers faster internet speeds with lower latency.
The service operates using mmWave (60GHz) technology and works by the installation of distribution points to homes. Each distribution point needs to have line of sight to an existing Pentanet transmission tower, whereby the signal can then be rebroadcast to other users, even if that user doesn't have line of sight to a tower. This effectively creates a mesh network capable of delivering consistent speeds of several hundreds of Mbps with low latency. Our ability to rollout neXus using existing infrastructure means that end users will not need to be subject to any exorbitant costs, and the price point will be affordable for every-day consumers.
About the awards
The INCITE Awards is WA's longest running Tech Awards Program and the premier event in ICT for our State. This program showcases and supports WA Technology solutions and gives the industry a chance to celebrate WA's ICT innovations.
neXus was recognised as a finalist in the Transformative Solutions category, amongst an impressive cohort of industry peers. This award recognises and celebrates an outstanding transformative digital and/or technological solution created or based in WA, that's transforming processes, culture, customer experience and/or business solutions. The solution support smarter processes in an innovative and collaborative manner, delivering and transforming organisations with high levels of productivity and competitiveness.
We were also thrilled to be announced as the Winner of the People's Choice Award on the evening.
All in all, a fantastic showing at a prestigious award program for the WA IT&T industry. Thank you to all who voted for Pentanet to win People's Choice!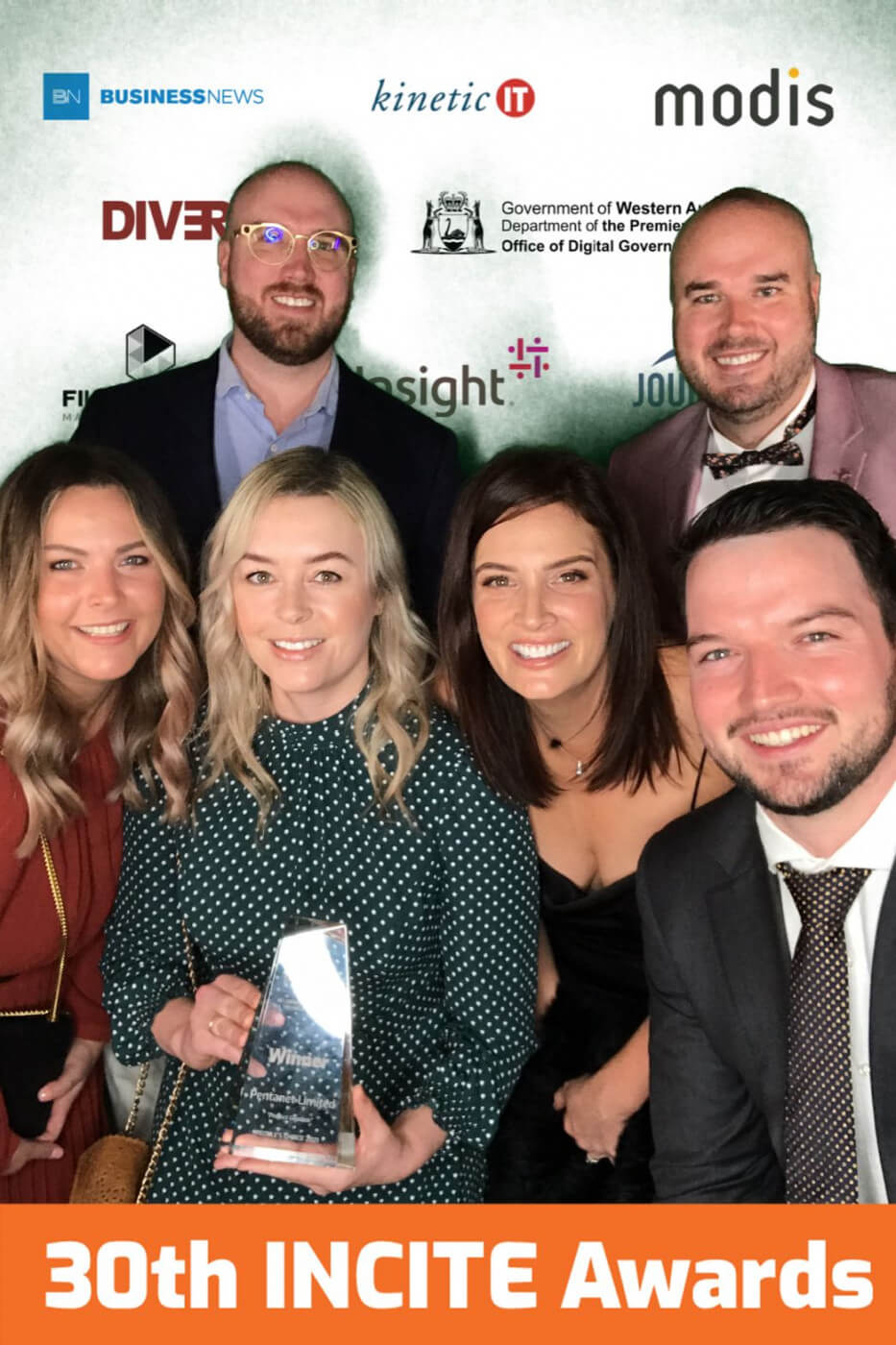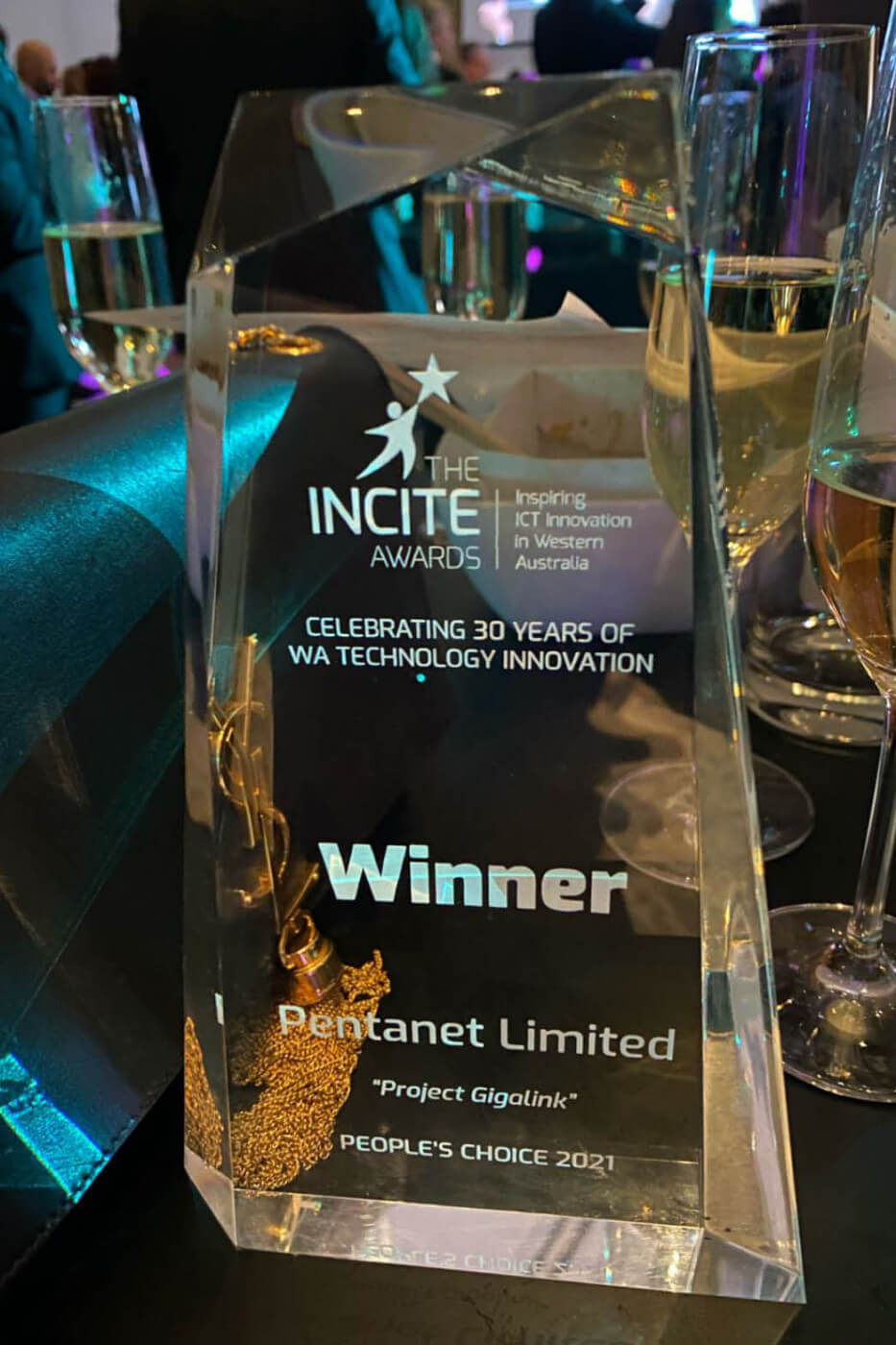 Interested in learning more about WA's most innovative companies?
Head over to the INCITE Awards post-event wrap-up here.