Streaming, gaming, watching, playing, learning, Zoom-ing, connecting with family and colleagues around the globe. We do so much online these days, that encyclopedias, fax machines and video stores are a distant memory. #RIPBlockbuster
When it comes to living the connected life, it takes an army (of infrastructure!) to ensure your next movie marathon even reaches you, let alone loads without buffering. Every step of the streaming process has a role to play.
Enter P2 by NEXTDC. The imposing and striking recent addition to Perth's eastern CBD landscape is 'where the cloud lives'. P2 forms an important digital interconnectivity hub, bringing together Perth's new high capacity, high-speed submarine cable networks connecting Perth to South-east Asia and Sydney.
And, as Pentanet is a partner of NEXTDC, we got a first-hand look at the whole thing.
Security First
We undertook strict induction and screening protocol prior to entry and can I just say… P2 has the coolest 'Get Smart-esque' man-trap entry system I've ever experienced. Designed under advice from ASIO accredited consultants with ballistic resistant Gunnebo security portals, it's clear that security and privacy is a vital focus of their operation.
Size Matters
NEXTDC's first Perth data centre, P1 in Malaga, is an impressive 3,000m2… but wait 'til you see P2. An Uptime Institute Tier IV certified building with 12,000m2 of technical space powered by 20MW of IT load, P2 is a modular design with the ability to scale as the need for capacity and interconnectivity increases.
Every major fibre provider terminates within the centre, including the 9,000km Indigo subsea cable which terminates directly at P2. Our team is proud to have direct relationships with these providers and can help you select a service that routes to where you need fastest and has a turnaround time suitable for your project.
Completely Fault Tolerant Infrastructure
P2 delivers 100% AC/DC uptime to the rack, with the rigorously tested Uptime Institute Tier IV certification to prove it. The data centre is its own power-grid, running on diesel generators alongside direct access to the Western Power grid. In the event of emergencies, NEXTDC even has a relationship with oil manufacturers to ensure diesel is delivered as a priority, ensuring your equipment always stays powered. Their annual Dark Site Test is a fascinating process of putting critical infrastructure to the test… by turning off power from the grid. 🤯 You can read more about that here.
Rather than the common cold-aisle containment (where the back of the server is constantly cooled), P2 uses hot-aisle containment. Servers pull cold air through their components from the front which is then contained in a hot aisle from every rack and taken away though the ceiling plenum.
Every NEXTDC data centre also has in-built staging spaces which allow you to unpack and test equipment prior to installing it into the rack, along with our favourite – a spare-part vending machine filled with fibre and copper patch leads, power cables and adapters. Whilst you're waiting for an update on your server, comfort spaces with Foxtel, Wi-Fi and massage chairs will await.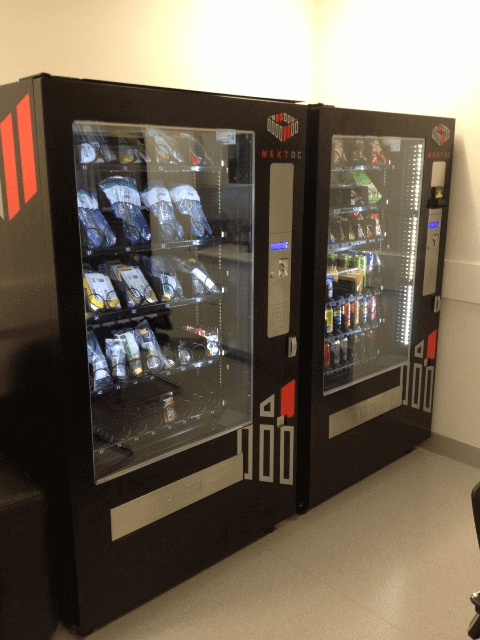 Join us at P2
It's probably pretty clear from the above, but we love to visit this state-of-the-art data centre. If you'd like to score an invite to join us, please email [email protected] and register your interest.
As for us, our team at Pentanet can provide an array of customisable services to suit the needs of SME and Enterprise. From a point-to-point dark fibre link between locations or IP Transit bundled with a rack in P2, we have solutions that suit the needs of you and the client.
We also have the advantage of being local, dedicated and agile. A solution that may typically take weeks or months to spin up with a larger carrier could be quoted and delivered more efficiently by us. Give us a call with your new project and let's find out!
For any more information, please contact Rob and I at [email protected] or connect on LinkedIn.
Rob O'Connor (Left) | Charlie Westerman (Right)