TL:DR: Desperate for Love Dog Rescue asked the public for help with transporting puppies – and it was Team Pentanet to the rescue!
Good deeds feel even better when there are puppies involved! Kim and Grace from Team Pentanet's Accounts Team found this out the fun way when they responded to a call out to transport three beautiful puppies from Geraldton to Perth for Desperate for Love Dog Rescue.
It's no secret that we're an office full of dog lovers. We regularly have puppers visit for the day, so when Kim and Grace saw that there were puppies in need – they jumped at the chance to volunteer their time (and car!).
"I saw the post on Facey and couldn't resist," Kim said. "I love puppies, especially ones with giant paws - you know they're going to grow up to be precious gentle giants like my Tinky. I tagged Grace in the post for approval, naturally she said yes so that was it!"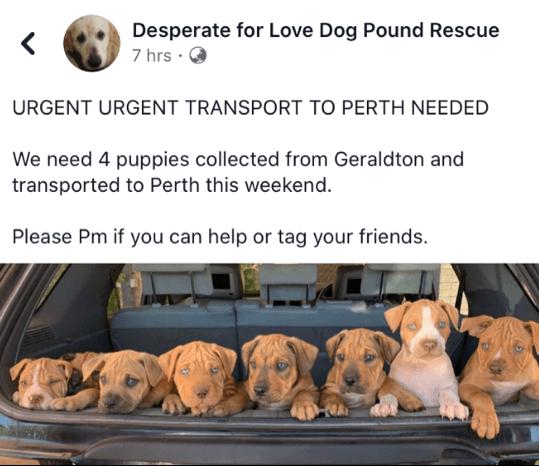 The post that tugged their heartstrings.
One of the 4 pups lucked out and snagged a new home before the car ride!
The ladies filled their car with blankets, pillows and treaties, then settled in for the 4.5 hour journey back to Perth. Pups Clifford, Dory and Gypsy played, slept, ate and slept some more on the trip, and provided plenty of cuddles along the way too!
They bought the pups new collars and leads and took them on a few walks on the way home. When the DFL volunteer picked up the pups for the next stage of their journey, they were all smitten – Kim said they spent ages talking about how cute they all were.
DFL is a Perth dog rescue run entirely by volunteers, relying on the generosity of animal-lovers like Kim and Grace to help foster and place dogs into permanent homes with families who will commit to loving them for the rest of their days.
The dogs in their care live temporarily with foster families in Perth Metro area while they prepare them for adoption; completing their vaccinations, microchipping, de-sexing and other medical care, and getting to know their personalities and needs.
What makes DFL so different from other rescues is the philosophy of saving all dogs - no matter how old or how long they may have. In fact, Desperate for Love Dog Pound Rescue is committed to saving those dogs that no one would adopt (due to age or ill-health) and place them in a loving forever foster home so that they can live their days out in comfort, love and peace. All vet work is covered by DFL to make them as comfortable as possible.
Sadly, the Geraldton Dog Refuge is totally full and unable to take more dogs in. Kim and Grace have said they will do regular trips to collect pups like Gypsy, Clifford and Dory and encourage everyone to do the same where possible!
UPDATE:
All three pups have been adopted into their forever homes! Gypsy was adopted and she went to a loving home shortly after arrival. Dory and Clifford went to their forever home together, here's what their Fur-Mum said:
"We are absolutely in love with Dory and Clifford! They are so well behaved and such sweethearts! They seem to be settled and very happy with us. Thank you for making the adoption process so easy and fast, and for your wonderful work saving lives I have attached some photos of them below of them just being their adorable selves."