Hi, my name's Rhys. I am 17 years old. I am a bit of a nerd and a gamer, and when I get the chance to myself and some off time, I like to play some video games so having good internet is important to me. Not only download and upload speeds, but also the ping.
Three and a half years ago, my family and I moved from the suburbs to some acreage in Neerabup. Great move to a new house choice, a terrible mistake for Wi-Fi choice. (Probably should have checked we could even get Wi-Fi before we moved). We ended up using data for around six months until Pentanet came along. So, I decided to do some research and discovered a service called "Fixed Wireless". I was super happy to see that maybe, just maybe there was a chance to get off our data and have some proper internet.
I sent in all the details and waited for a response. Super quick response from the team and the result was disappointing. Unable to get any service due to all the TREES surrounding us! Argh! Annoyed and upset that we couldn't get any internet I just carried on using my data. But that didn't stop me.
After a while of annoying the poor team at Pentanet, they said that they will send out a technician to check just in case, that there was any hope of us being connected. Within a couple of days, a technician was sent out to our home to check the line of sight to the tower. Finally, there was good news! But with a catch. We had to have a 9-meter telescopic pole installed on the roof! I begged and begged my parents to have this installed. Keep in mind I was 14 years old at the time. They finally agreed to it, so that day I called up Pentanet and gave the all-clear for the go-ahead.
The install team came out maybe a few days to a week later with this massive, and I mean MASSIVE pole. It took the team from memory, three entire days to install the pole. But it was worth it. Once it was up, we were quickly connected. And my gosh, the speeds were breathtaking! Literally, we were all shocked, jaw dropped. We could watch a YouTube video in 720P quality, not 140!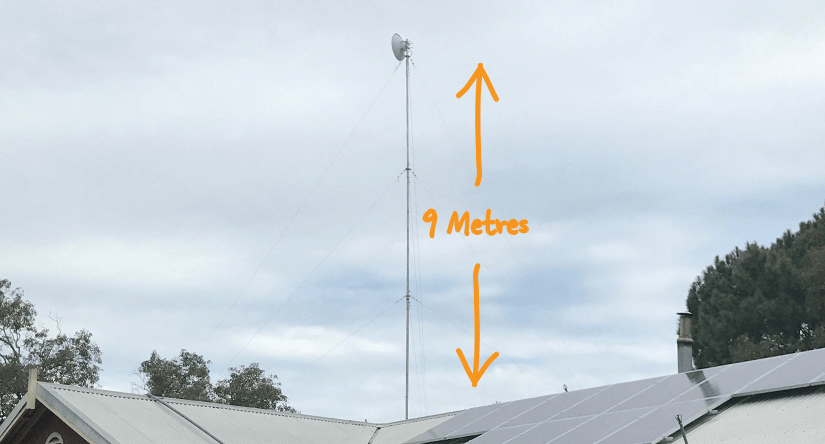 Fast forward three years and I could not fault the team at Pentanet. Speeds were consistent and the ping was great, and the internet plans kept getting better and better. I referred many of my family and friends to them, and they have signed up and been connected too.
Just recently, I saw an advert on Pentanet's Facebook Page. Curious to see the role, I clicked the link and saw it was for a Customer Service & Sales Representative. The previous job I was in for two and half years was similar, so I decided to give it a shot and apply. I have wanted to work for Pentanet since I knew, and we were connected with them. A few days later I get a call from Daniel, the Sales Manager, who would like me to go in for an interview. Of course, I said yes.
After the interview, I was able to meet most of the team very briefly and given a quick tour. There were so many cool tech gadgets and cool to see how everything works. Even if I didn't get the job, I was so happy to put faces to the names who I spoke to over the years. And it was funny to see that most of the team knew me due to having one the biggest and most expensive Fixed Wireless install. And also, was known as the OG customer as I think we were one of the newest customers to join the network as soon as we could haha.
A week later I received an email from Daniel to answer some questions so of course, I did. Then maybe a day or two later I had a phone call back from Daniel saying that I got the job! I was overwhelmed with excitement and told all of my family and friends.
It's a week before I start. I am so eager to start my new career and to grow, develop and become part of the Pentanet team. Some nights I am like a little kid on Christmas Eve, and can't sleep at night due to the excitement. One more week to go, and I am counting down the days!
I would like to say thank you once again to Pentanet for allowing me to join the team. I can't wait to start and look forward to the years I get to spend working with you guys and being able to spread the word and get people connected.
---
How good is this? We absolutely love meeting our legacy customers, and are absolutely stoked to have Rhys join the team. He's been known as a Pentanet Fan Boi for many years, and we just knew he was the right person for the job.
To chat to Rhys or any of our passionate, dynamic sales and support team, you know where to find us!
Get in touch with us here.