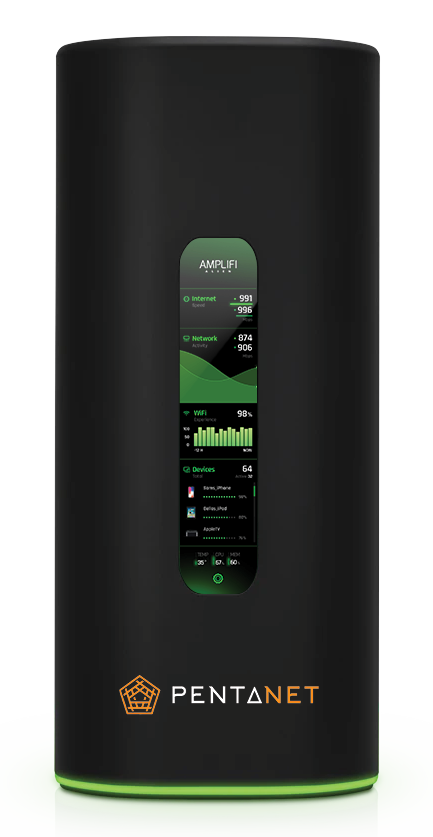 AmpliFi Alien Router
$899.00
This premium device brings unrivalled benefits to your home network, including a 4x increase in network capacity, 2x extended coverage, and reduced battery drain in your mobile devices.
Harnessing the cutting-edge 802.11ax Wi-Fi 6 technology, the AmpliFi Alien surpasses ordinary routers with its capability for true 1000Mbps speeds. Its tri-band radio, optimized for Wi-Fi 6 performance, features 2.4 GHz and 5 GHz 802.11ax radios, while the dual 5 GHz radio configuration with a dedicated 5 GHz mesh link ensures outstanding system performance. All those techy words put together equal a truly next-level Wi-Fi experience.
Wi-Fi 6 performance
5 GHz 8x8 Wi-Fi 6 radio (Max speed 4804Mbps)
4 GHz 4x4 Wi-Fi 6 radio (Max speed 1148Mbps)
5 GHz 4x4 Wi-Fi 5 radio (Max speed 1733Mbps)
Router with 4-Port Gigabit Ethernet switch
Touchscreen display
Includes AmpliFi Teleport configuration-free VPN solution
A super-fast connection is only a few clicks away!