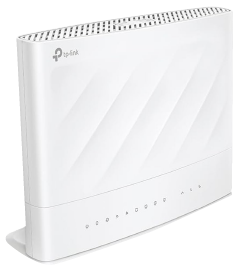 TP-Link VX230v
$180.00
Ideal for small to mid-size households, the TP-Link VX230v modem/router is a fantastic entry-level option that maximises your internet connection's capabilities. With reliable speeds across multiple channels (5Ghz and 2.4Ghz), this router is the perfect companion for any of our plans.
TP-Link VX230v Wireless Dual Band Gigabit VoIP VDSL/ADSL Modem Router.
Dual Band Wi-Fi.
Supports VOIP Calls: Connect a handset to easily make or receive phone calls over the internet (compatible VOIP service required).
Full gigabit Ethernet ports, up to 10x faster than standard Ethernet for lightning-fast wired performance.
Supports USB 2.0 for easy sharing of files & media to networked devices.
nbn™ FTTB/FTTN compatible.
Capability for bridging to other high-grade routers.
A super-fast connection is only a few clicks away!