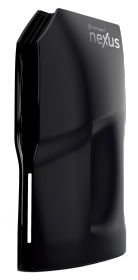 Pentanet Prism Edge
$399.00 $220.00
Experience Wi-Fi like never before with the Pentanet Prism Edge, the pinnacle of performance. With advanced Wi-Fi 6 technology and a powerful Qualcomm quad-core 1.2GHz CPU, this router offers an unrivalled Wi-Fi experience.
Originally exclusive to neXus, we've now made it available for all our plans (excluding nbn™ FTTN connections) so everyone can enjoy superior performance. Whether you reside in an apartment, townhouse, or multi-level house, the Prism Edge delivers exceptional, next-generation Wi-Fi speeds, unlocking the true potential of any Pentanet plan.
Through its mesh technology capabilities, level up with additional Pentanet Prism Edge units to ensure uninterrupted coverage across your entire home.
Wi-Fi: 2.4GHz (573Mbps) + 5GHz (1201Mbps)
Enhanced MU-MIMO capabilities increase the number of simultaneous device connections
Wi-Fi 6 performance
Mesh technology
1x Gigabit WAN port
2x Gigabit LAN port
Parental controls
A super-fast connection is only a few clicks away!